News
Zelensky Notes 'Painful Losses' as NATO Chief Calls for Ukrainian Weapons
Ukrainian President Volodymyr Zelensky on Sunday stressed the need for more anti-missile systems, as the battle with Russian forces continues in Ukraine despite Russia's depleting stock.
Zelensky released an extended statement on Tuesday, posted to the official presidential page on the Ukrainian government's website. In it, he noted that his country's forces have been able to "cut the wings" of some Russian missiles, saving lives and infrastructure. Despite those successes, however, the country is still being bombarded with strikes, with Zelensky highlighting destruction in the regions of Lviv and Ternopil.
In response, Zelensky stressed to ally nations that Ukraine requires modern anti-missile systems, which he also said the government had requested prior to Russia's full-scale invasion.
"Our country does not have it at a sufficient level yet, but it is our country in Europe that needs such weapons most right now," Zelensky wrote. "Delay with its provision cannot be justified. I will constantly emphasize this when talking to our partners."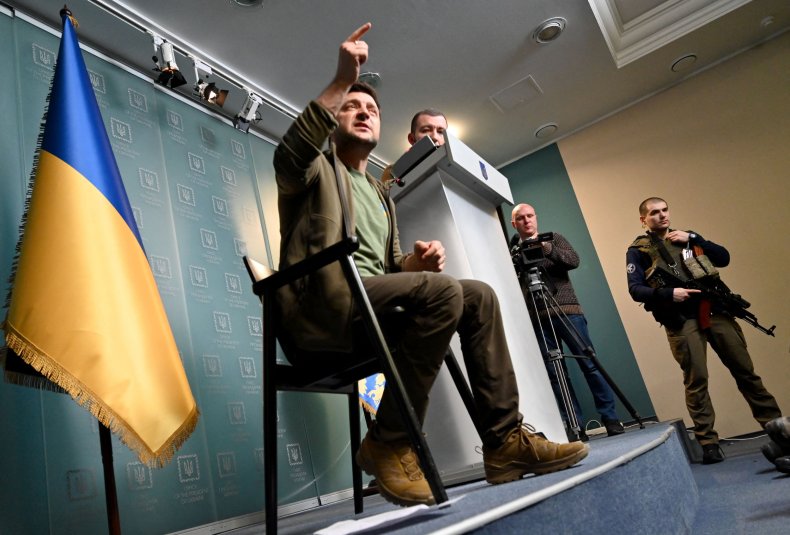 Summing up the state of the conflict in Ukraine, Zelensky said that they are holding strong against the fiercest onslaught in the heavily contested Donbas region. He did note, however, that there have been "painful losses in the Kharkiv region, where the Russian army is trying to strengthen its position."
"But we have to hold on," he continued. "This is our state. It is vital to hold on there, in Donbas. The more losses the enemy suffers there, the less power they will have to continue the aggression. Therefore, the Donbas direction is key to determining who will dominate in the coming weeks."
Also on Tuesday, Jens Stoltenberg, secretary-general for the North Atlantic Treaty Organization (NATO), urged Western countries to provide more heavy weaponry to Ukraine when pressed on the matter during a press conference in The Hague, according to Barron's.
"Yes, Ukraine should have more heavy weapons," Stoltenberg said. "Because they absolutely depend on that to be able to stand up against the brutal Russian invasion… We have not done enough to defend Ukraine, to support the Ukrainian people, to support their freedom and sovereignty. And this is why I urge you, I ask you to do much more to deliver weapons, artillery to Ukraine. They need this to defend their country."
In his statement, Zelensky said that he recently spoke with Canadian Prime Minister Justin Trudeau, thanking him for the extensive defense support his country has given Ukraine. He also noted a conversation with Guillermo Lasso, the president of Ecuador, in which he urged the country to continue putting pressure on Russia to end its invasion.
Newsweek reached out to the Ukrainian Ministry of Defense for comment.
Source link