GAMING
You still can't download BGMI from Google Play Store: Here's why
BGMI recently made its re-entry into India and mobile gamers haven't kept calm ever since, waiting to try the game after its ban seemed to have been lifted, according to several reports. 
But after all the initial excitement, a lot of users are still not able to install the game from Google Play Store. Some users who're searching for the game are still not getting redirected to the app download link. So what's happening exactly? 
The game was back in India after they agreed to comply with local laws and regulations of India. But even after the changes were made, there are still concerns which haven't lifted the ban completely and hence it's not available to all users on Play Store. 
Also read: New BGMI Player? 5 Easy Tips To Instantly Play Like A Pro Gamer
BGMI made an official statement on their Instagram handle saying, "Several users have been reaching out asking if they can download BGMI since they can see the "download now" option on the website. Please note, the game is not available to play as the servers have been shut." 
They also stated, "Currently, the closed test track for BGMI is updated. Those who opted for a public test for the game before its launch are expected to get a message via email which takes them to the play store for downloading the game."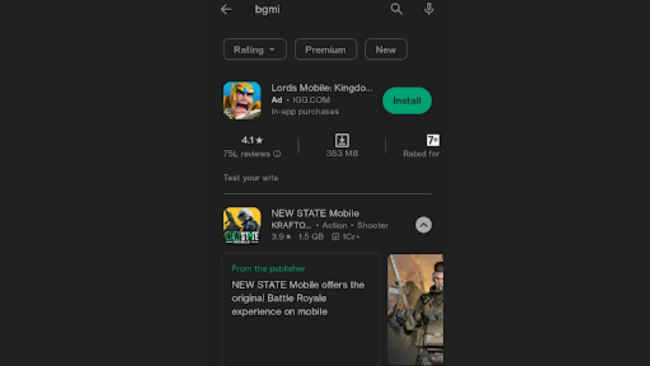 According to BGMI's social media handles giving regular updates, the game will be back in India for every user in the next couple of days for sure. The game was banned for 10 months, so mobile gamers are enthusiastic about the return and eagerly waiting to try out the game with the new certain changes. 
Krafton the parent company and the Indian government are working towards bringing BGMI back for all gamers as soon as possible. So, we can expect good news pretty soon for all gamers who are eager to try the game out. 
Also Read: RIP BGMI: 5 Amazing Games Much Better Than BGMI You Must Try
Tags:
BGMI
BGMI on Play Store
BGMI not available on Play Store
BGMI instagram handle
BGMI coming soon
PUBG Mobile
Source link