GAMING
Xbox Cloud Gaming "Works Well" On Valve Steam Deck, Confirms Chief Phil Spencer
Project xCloud, a feature of the Xbox Game Pass subscription service, works as intended on the recently announced handheld gaming console, Valve Steam Deck, according to Xbox chief Phil Spencer. Colloquially known as the "Nintendo Switch Pro Killer," the Steam Deck already has blessings from one of the most influential men in gaming history.
Spencer revealed his Steam Deck on Twitter and praised the Valve development team for making a handheld gaming console with a good library of games, screen size and controls. The Xbox Chief also mentioned that he enjoyed playing Halo and Age of Empires on his Steam Deck.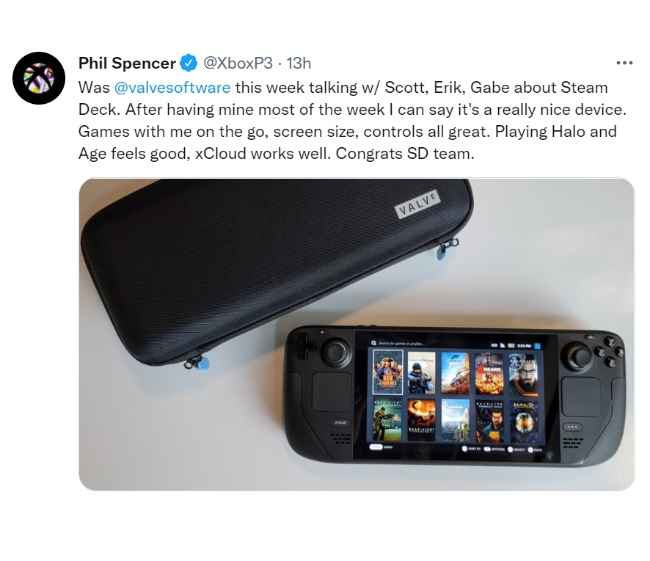 Xbox Cloud Gaming Runs Great On The Steam OS
The Valve Steam Deck comes with a custom version of Steam OS, a Linux-based operating system. Therefore to run games, the Steam Deck uses a Proton emulation layer, as most titles cannot run natively on Linux. It is a popular method and it works really well. In fact, according to a report, developers stopped making native Linux games because the Proton emulation is great at its job. Furthermore, it is now clear that Project xCloud, a third-party cloud gaming application, works well on the Linux-based platform as well. 
Spencer's tweet also gives us a hint at Steam Deck's controller capabilities. The tweet implies that Spencer played Age of Empires, a strategy game that requires a keyboard and a mouse, using the inbuilt Steam Deck controller. Although people primarily play strategy games like Halo Wars 2, available on Xbox console, using a controller, it is refreshing to see that Steam Deck also has similar or probably better capabilities. 
Are we looking at a future collaboration between Valve and Xbox soon? Probably not, but Steam Deck continues to look better with each new report/leak. 
Tags:
Steam Deck Xbox Game Pass
Steam Deck Xbox xCloud
Steam Deck Xbox Cloud Gaming
Steam Deck Xbox Games
Steam Deck Cloud Gaming
Steam Deck Price
Steam Deck Launch