CULTURE
Kingston's Lviv, Ukraine Folklore Festival attracts large crowds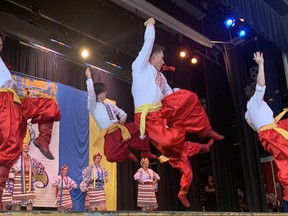 Article content
After a two-year hiatus, the Lviv, Ukraine Folklore Festival returned to Kingston, bigger and better than before.
Article content
Hundreds of spectators gathered at Regiopolis-Notre Dame Catholic High School on Saturday to enjoy exhibitions on Ukrainian history, indulge in Ukrainian delicacies and watch dozens of traditional dancers.
Kingston's Lviv, Ukraine festival is among Canada's longest running Ukrainian folk festivals, having begun over 50 years ago.
For Lubomyr Luciuk, president of the Ukrainian Canadian Club of Kingston, the turnout is unlike anything he has seen before.
"It's been a tremendous success. I have never — and I've been to every single one of these — seen this many people. There are individuals coming from outside of Kingston. I just spoke here from Ottawa, and there was someone earlier from Toronto," he explained in an interview with the Whig-Standard.
While the festival is a celebration of Ukrainian culture and history, Luciuk says the reality of the ongoing war in Ukraine is not far from the minds of organizers and attendees.
"There is that somber background of the Russian invasion of Ukraine that Putin and his soldiers are waging there, so this is obviously not far from our thoughts, but we're inviting people to stand with Ukraine and we're working to help the Ukrainian refugees who have settled here in Kingston," Luciuk explained.
To acknowledge the ongoing war, organizers incorporated contemporary music and provided information, but they were careful to not veer too far from the celebratory elements of the festival. Additionally, much of the proceeds raised throughout the day are being used to support the Ukrainian refugees who have settled here in Kingston.
Article content
"Some of the music that we're playing is contemporary music that relates to the war. If you get a copy of the passport, you'll see there's a little article that mentions the war and the resilience that Ukrainians have shown, and asks Canadians to continue standing with Ukraine. We're also raising funds, and people are making donations, that will go into the fund for Ukrainian refugees," he said.
For the Ukrainian refugees in attendance, the event is a way of remaining connected with the home and culture they have left behind.
"Most of them will tell you that one day they would like to go home. But in the meantime, they can eat the food, they can listen to the music, they can see the dancers and think, 'Well, you know, if this ends up being where I have to stay a lot longer than I anticipated, I can raise a family here, I can put my kid into a dancing group, I can attend a cultural festival where I hear people speaking my language," Luciuk said.
For Luciuk, it is these elements of the festival that stand out — the celebrations of Ukrainian culture and language.
"This is an event where the young men and women who are in the dance group everything — from three or four year olds to 40 year olds — have a chance to perform and entertain and promote Ukrainian culture. There are commemorative educational displays about folklore, we did two banners on Ukrainian history — one about the famine and one about the internment operations. There's a display of Ukrainian artifacts and cultural relics. And the food — people come for the food. Right now, we have a lineup stretching all the way around the door for the food," Luciuk said.
Source link