GAMING
Intel NUC Pro Chassis Element is a great option to build an affordable work from home system
Intel's Next Unit of Computing (NUC) mini-PCs has set a benchmark to show how much computing power can be packed into a small form factor. These are honest-to-goodness machines that can pump out incredible performance that may seem otherwise impossible from a unit the size of a lunchbox.
Imagine a small chipset the size of a 2.5-inch solid-state drive that contains your processor, the memory, and the Wifi chip, slotting into a board just like a GPU and run a suite of enterprise applications with just a few additional components. Well, that's the idea behind the Intel NUC 11 Compute Element that we're checking out today.
I've been using the Intel NUC 11 Compute Element mini PC for quite some time now, and I am finally ready to tell you exactly the kind of performance you can expect from this tiny machine.
Intel NUC 11 Compute Element Performance
So, the unit which I got for review is powered by an 11th Gen Intel Core i7-1185G7 CPU that comes with integrated Iris Xe graphics. The 1185G7 unit is a power-efficient quad-core SoC for mobile computing solutions based on the Tiger Lake-U generation.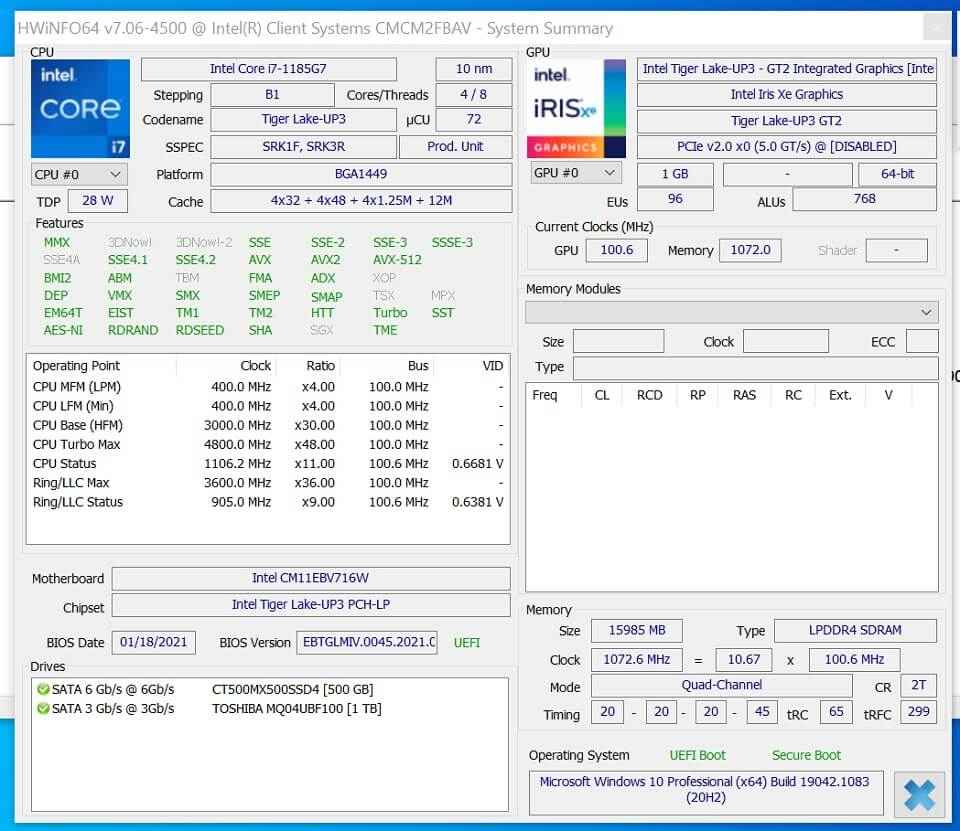 You are looking at 4 Willow Cove cores and 8 threads in action, with each core capable of running at a 3 GHz base clock at 28W TDP. You also get a single-core boost of 4.8Ghz, whereas all cores can run at up to 4.3Ghz. We've already seen this CPU do its trick on some premium Ultrabooks and mainstream thin & light laptops, so I knew exactly what to expect from the NUC 11 Compute Element when it comes to performance.
Just to give you an idea, let's take a look at some benchmark numbers real quick – 
Starting off with the PCMark 10, the NUC 11 Compute Element managed to give me a score of 5,077, which is on par with some of the dedicated gaming laptops that we've tested here at Digit. This processor is in fact, very similar to another 11th Gen Intel Core processor, the Core i7-11370H, but the lower TDP rating allows it to deliver better, sustained performance in such workloads.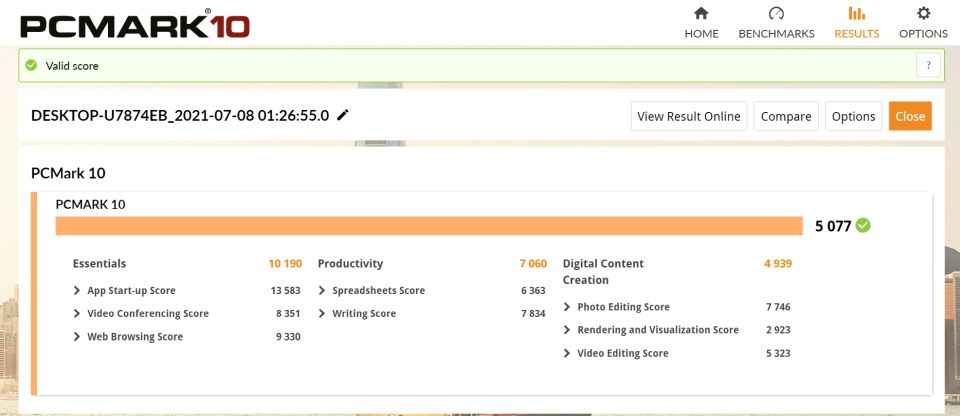 In Cinebench R23's multi-threaded workload, I noticed that the clock speeds were able to hit the boost frequencies of 4.3Ghz, and there weren't any significant clock speed fluctuations. That's a good sign because I did not the CPU running quite hot during this workload. I was able to run other CPU-related tests without any major issues as well, so it's safe to say that the Core i7-1185G7 performed just as well as I expected it to.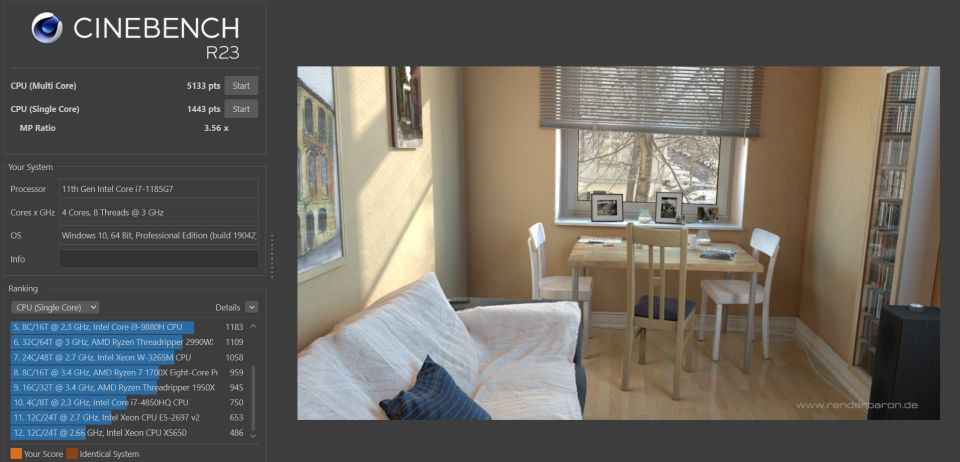 Moving on to the iGPU performance, the Intel Iris Xe graphics based on the new Gen 12 architecture was able to keep up with my testing as well. The i7-1185G7, in case you don't know, uses 96 EUs and clocks between 400-1,350Mhz. The iGPU shares the 12MB of L3 cache with the CPU here in this case. The iGPU also has Intel's updated Quick Sync and other features, making it a solid upgrade if you are using an older CPU with a dated iGPU.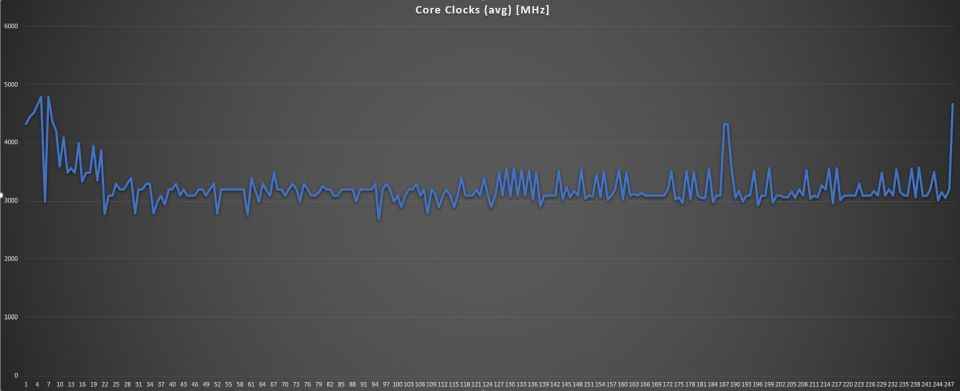 So, what's the performance like? Well, I ran 3DMark's suite of performance tests on this machine and the NUC showed some promising numbers. In the TimeSpy test, the NUC 11 Compute Element scored 1827 and in FireStrike, I got a score of 5083. The NUC actually ended up scoring better than the Dell XPS 13 9310 that I tested recently. Not that it's a direct comparison to that laptop, but the Dell XPS 13 9310 brings identical specs to the table.
In case you are looking to buy this system and are wondering how it performs when it comes to gaming, then I've got some numbers for you. I wasn't expecting any crazy performance out of this tiny machine but to my surprise, it ended up handling even some of the newer titles very well. Of course, you will have to compromise on the graphical fidelity while running the more demanding titles like Doom Eternal. Here's a quick look at the gaming performance  –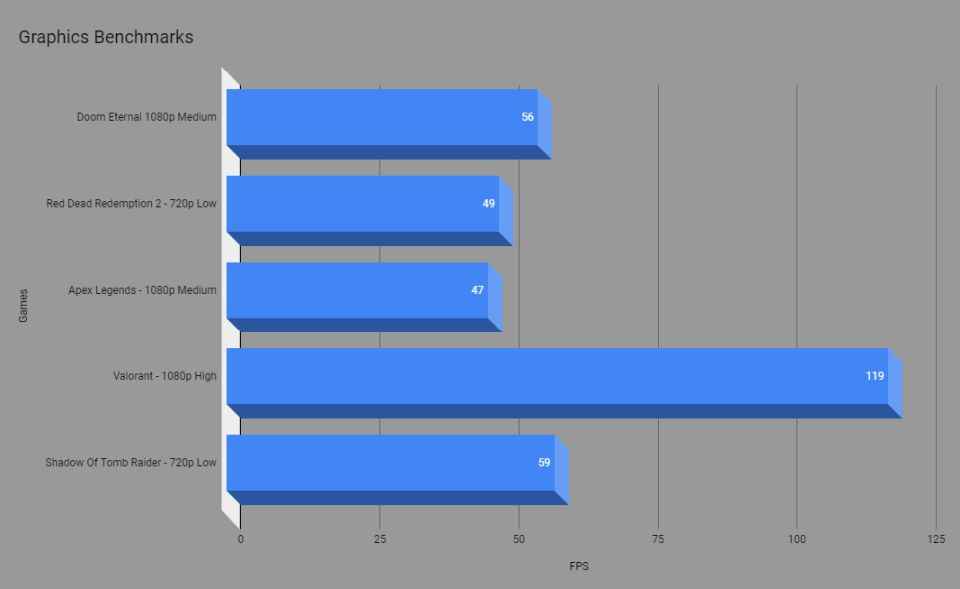 I always recommend investing in a system with a dedicated GPU for those who are looking to run some creative workloads, and this is a solid example that further proves my point. While the Core i7-1185G7 will help you run Adobe Lightroom Classic and handle the load, video rendering will take a hit due to the lack of a discrete GPU.
Intel NUC 11 Thermals
The Elk Bay unit that I tested, as you can see, isn't all that big when it comes to its form factor. The element NUCs, I'd say, are even smaller than your enthusiast NUCs like the Hades Canyon 8i7HVK that we reviewed a couple of years back. And because of this, there are some heating issues with the NUC 11 Compute Element inside the chassis.
The TJMax temperature of the CPU is 100°C and sadly, the cooling solution inside this chassis isn't enough to tame the CPU's heat dissipation. While the average core temperature of the CPU was under the TJMax limit, the maximum core temperature ended up hitting the limit more often than I thought. And because of this, the CPU did throttle a little bit during my testing, but thankfully there wasn't a major performance hit.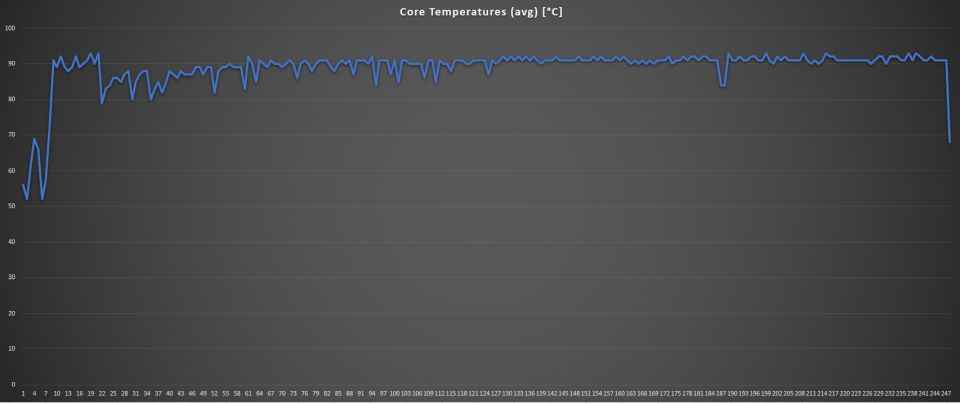 The same is the case for the Iris Xe graphics. Since it's an integrated system, the overall CPU package was hitting the max temperature of 100°C, and I noticed subsequent performance hits too. Honestly, I am not entirely surprised by this behavior since the Core i7-1185G7 tends to run hot even inside high-end ultrabooks with a decent cooling solution. The entire NUC 11 Compute element, as powerful as it is, isn't ideal for heavy and extensive workloads. As long as you keep your expectations in check, the system should run just fine. I highly recommend looking at some enthusiast NUC units if you are going to use it as your primary system for more demanding workloads.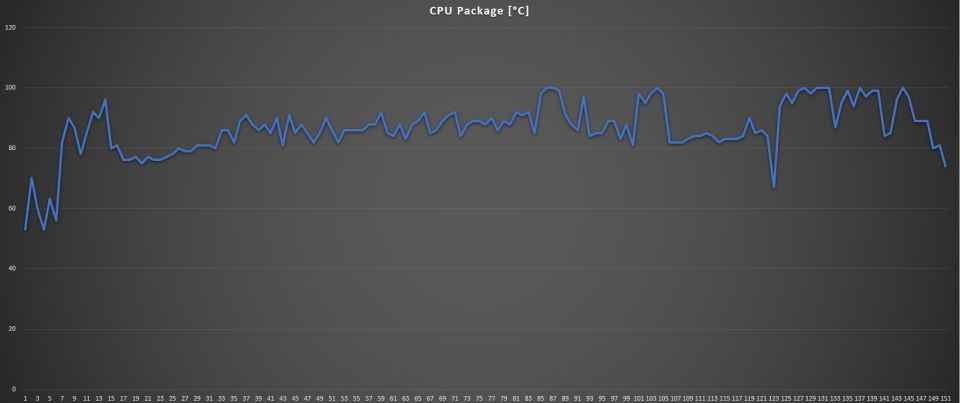 Intel NUC 11 Design & IO
There isn't much to talk about the design of this machine because of its tiny form factor. It's a fairly simple-looking box with a matte-finish top and a host of ports at the back. On the sides, there are vents for air intake on both sides, while the hot is blown out from the back.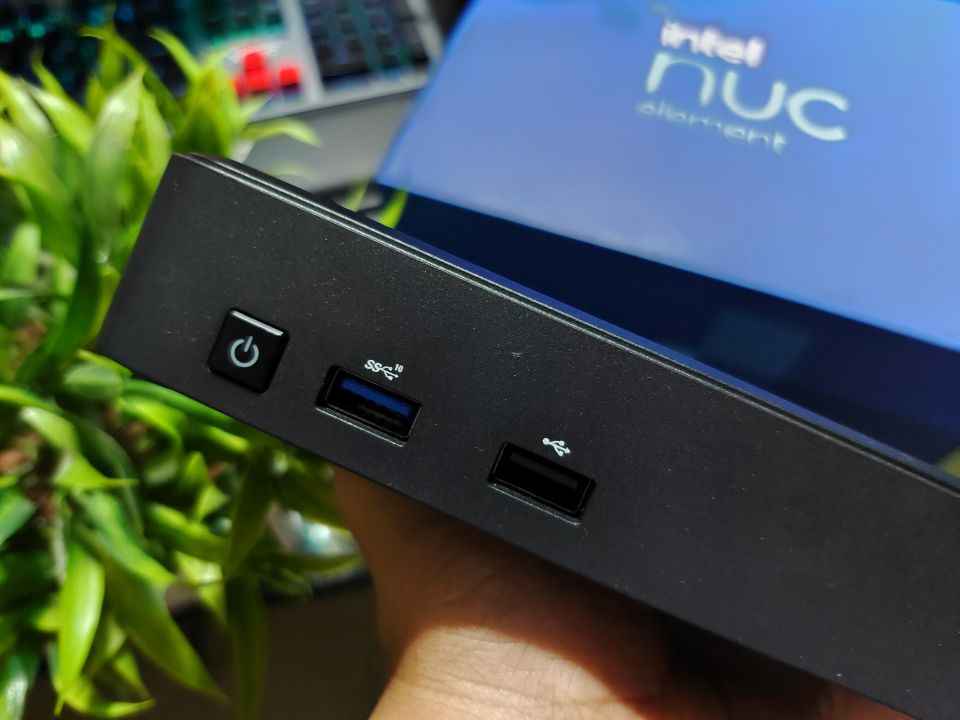 In terms of the ports selection on the front, you get a USB 3.2 Gen2 port and a USB 2 port along with a power button. On the back is where the real assortment of ports is located. You get a DC input that takes a 90W power adapter. There are 2 HDMI ports, 4 USB ports out of which 2 are USB 3.2 Gen2 ports whereas the other two are USB 2.0 ports. On the networking side, you get dual 1Gbe out of which is one is powered by the Intel i211-AT NIC, whereas the other one uses the onboard Intel i219-LM MAC.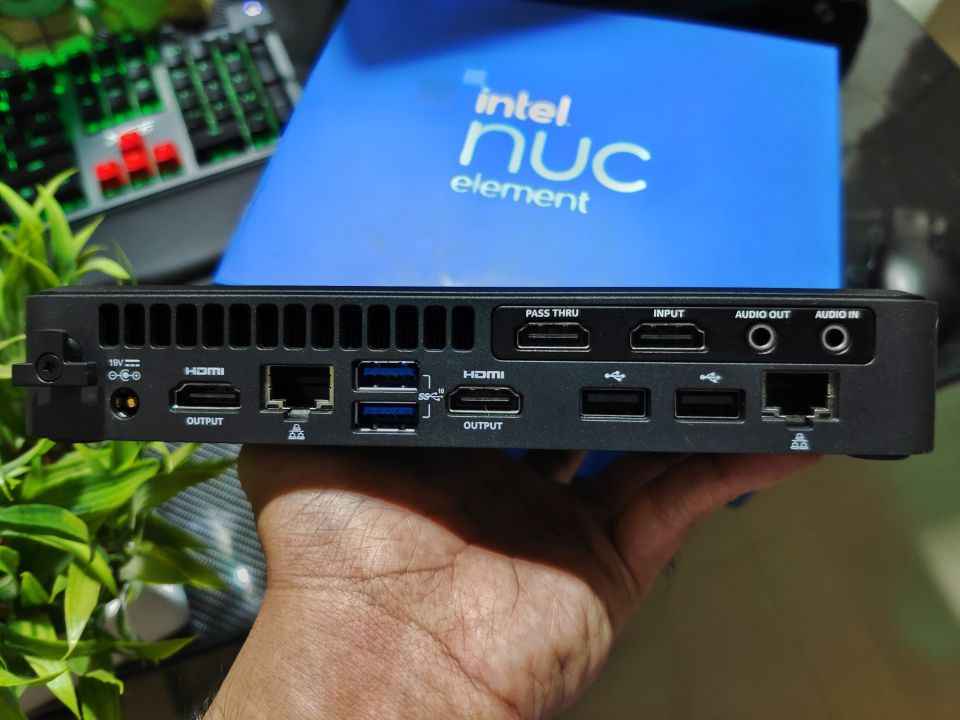 In addition to all these ports, you'd also notice that there's a set of HDMI ports along with Audio in/out. These ports are actually a part of the capture card that's built into this chassis. It's an AVerMedia CO513EC capture card that can be used for, well, any kind of video or audio recording with supported software like OBS.
This also makes the NUC 11 Compute element a good option for streamers and content creators who simply use the HDMI "Pass Thru" to send the signal for recording. I tested the capture card to stream games on Twitch and I'd say it will run fine as long as you are using the proper encoders to take advantage of that CPU instead of taking a performance hit due to the lack of a discrete GPU.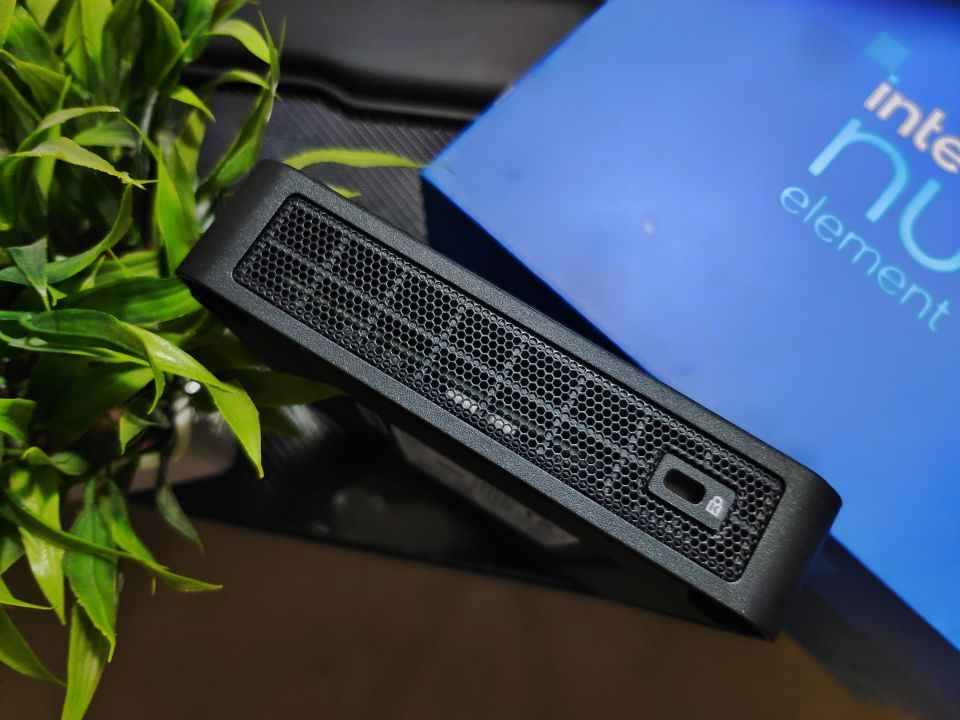 Outside of the compute element, there are M.2 slots onboard for SSDs. Our unit came kitted with a 512GB unit, but it can be expanded further as and when you are ready to upgrade. The memory, as I mentioned earlier, comes with the Compute element itself and it's a 16GB LPDDR4X RAM. Speaking of the Compute Element component, you also get WiFi 6 and Bluetooth, thanks to the Intel AX201 NIC that's connected internally with antenna wires.
Upgrading this system is as simple as popping out the main Computing Element and replacing it with the newer ones as and when Intel makes them available on the market. The other components outside of the Compute Element can be replaced anytime at your will. 
Intel NUC 11 Verdict
The Intel NUC 11 Compute Element is geared towards enterprises eyeing modular PCs for their customization options. Having the flexibility to change the NUC element with a better processor, or adding more storage, etc., is just a few screws away. It's also good for an average user who's looking to use this as a daily driver machine for day-to-day workloads. Intel tells me that the entire package is priced at $495 which roughly translates to around Rs 36,000. Adding better components to make a better functioning unit will still cost you less than an ultrabook with similar specs. Of course, you will need a monitor to plug this in and run it though.
All things considered, the Intel NUC Pro Chassis Element with the NUC 11 Compute Element is a solid option for those looking to make a new work-from-home system without emptying their pockets. It's also a great enterprise solution with a lot of customization and upgradability options.
Source link