GAMING
Garena Free Fire OB29 update: New game mode, characters, weapons and more
Garena Free Fire's new OB29 patch has dropped. The new update is rolling out globally, and should be available to players sooner, rather than later. As with all major updates, the new OB29 patch brings with it a number of changes and additions. The patch is called '4nniversary' as this is the anniversary month for the game.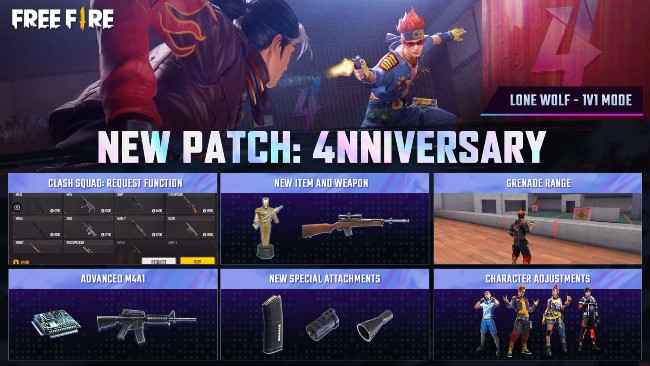 Garena Free Fire OB29 4nniversary update: New mode, Clash Squad Rank Season
The OB29 patch for Garena Free Fire brings with it a brand new mode called Lone Wolf. This 1v1 mode allows players to battle it out among themselves. With the new mode, comes a new map called Iron Cage. This map is specifically designed with 1v1 matches in mind.
The Season 8 of Clash Squad Rank Season is set to start on August 8. The new season will go on till September 29. Players who manage to rank up to Gold III or above will receive the Golden AN94.
Garena Free Fire OB29 4nniversary update: New characters and pet
The new O29 update to Garena Free Fire will introduce two new characters to the game. The first is Dimitri, who will come with an active skill called Healing Heartbeat. When activated, it creates a 3.5m healing zone. When inside the zone, users and allies inside the zone will recover 3HP/s. When downed, allies will also be able to self-recover when inside this zone. 
The other new character is Thiva, who comes with a passive ability called Vital Vibes. This ability increases the Rescue (revive) speed of fallen allies. Further, when a player is successfully Rescued, that player will recover some additional HP. Both these characters will be available later. 
Besides this, a few other characters will receive some buffs in order to make them competitive again. This includes Jota, Luqueta, Shani, and Alvaro. All these characters will see improvements in their skills and abilities. 
The new pet is called Sensei Tig and is based on a Tiger. The new pet grants an ability called Nimble Ninja. This reduces the duration of the enemy's man-marking skills. 
Garena Free Fire OB29 4nniversary update: New weapon, new attachments and weapon balancing for certain weapons
Garena Free Fire has added a new marksman rifle called the AC80 to the game. The weapon is designed to take on armoured enemies as it comes with an ability called 'Piercing Shots'. With it, every second damage dealt with the weapon will deal extra damage. The weapon has a base damage of 50, with a 0.45 rate of fire. In terms of attachments, it can accept Muzzle Grip and Stock attachments.
The M4A1 will get three new additional modifications. Players will be able to use an M4 Chip to upgrade their M4A1 into one of three versions, namely X, Y, or Z. The M4 Chip will be available as a pickup, or it can be purchased via any of the vending machines on the map.  
Besides the new weapon, a host of existing weapons will see rebalancing. This includes the UZI SMG, XM8 Assault Rifle, SPAS12 Shotgun, Vector SMG, and M1887 Shotgun. 
The Decoy Grenade has also been upgraded to make them more useful in matches. These grenades will now generate noise and will be revealed on the mini-map after it has been deployed. 
Free Fire also gets three new attachments. This includes the Shotgun Muzzle, SMG Muzzle, and AR Magazine. The Shotgun Muzzle adds one extra bullet in each shotgun shell fired. The SMG Muzzle increases the minimum damage range by one, while the overall range is also increased by one as well. Further, every third shot will deal 1.2x damage. Finally, the AR Magazine increases the rate of fire, while magazine size is decreased by 15%.
You can check out the entire list of changes in the update on the official website here. 
Tags:
free fire
garena
garena free fire
free fire ob29 update
o29 update
ob29 update details
Source link