CULTURE
Eurovision rejects Ukrainian plea to host 2023 contest in Kyiv, talks to BBC
"We will demand to change this decision because we believe that we will be able to fulfil all the commitments we have made," the statement said. "That is why we demand additional negotiations on hosting Eurovision 2023 in Ukraine."
The BBC said in a statement that "clearly these aren't a set of circumstances that anyone would want," but that after the EBU decision "we will of course discuss the BBC hosting the Eurovision Song Contest".
Loading
British Prime Minister Boris Johnson's spokesman, Jamie Davies, said "Ukraine's victory in the Eurovision Song Contest was richly deserved" and Britain had hoped to see next year's event held in the winning country.
If that proved impossible, he said, "we would welcome the opportunity to work closely with Ukraine and the BBC to host it here in the UK".
It is not known if Johnson, who met Ukrainian President Volodymyr Zelensky in Kyiv on Saturday (AEST , discussed Eurovision on his second trip to the Ukrainian capital since Russia's invasion
Johnson, who survived a no confidence vote earlier this month, was greeted by Zelensky as a "great friend" and posted a picture of himself with the Ukrainian president, with the words "Mr President, Volodymyr, It is good to be in Kyiv again".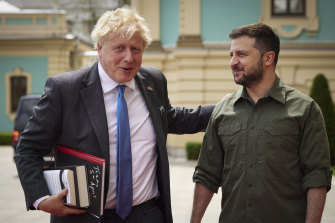 Johnson offered to launch a major training operation for Ukrainian forces, with the potential to train up to 10,000 soldiers every 120 days at the meeting, his office said.
"My visit today, in the depths of this war, is to send a clear and simple message to the Ukrainian people: the UK is with you, and we will be with you until you ultimately prevail," Johnson said.
"That is why I have offered President Zelenskiy a major new military training programme that could change the equation of this war – harnessing that most powerful of forces, the Ukrainian determination to win."
The unannounced trip was Johnson's latest show of support for Zelensky since Russia invaded Ukraine in February but might have come at the expense of his own MPs.
Some were angry after he cancelled an appearance at a conference in northern England, where some Conservatives won traditionally opposition Labour-supporting parliamentary seats for the first time in 2019.
The trip also came a day after the leaders of France, Germany, Italy and Romania travelled to Kyiv and endorsed Ukraine's candidate status to join the European Union.
Johnson, who faces political pressure at home, has grown in popularity in Ukraine as Britain has poured in military and political support to Kyiv during the Russian invasion.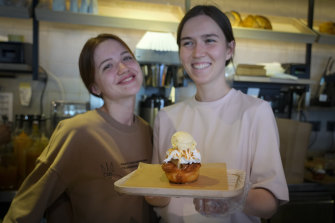 One cafe in Kyiv is selling an apple dessert named the Borys Dzhonsonyuk, a Ukrainianised version of the prime minister's name.
AP, Reuters
Source link