HEALTH
Dabir Chacha: A living legend
Dabirul Islam Choudhury. Photo: Courtesy
">
Dabirul Islam Choudhury. Photo: Courtesy
On a British sunny afternoon when the entire nation was celebrating Queen's Platinum Jubilee in a four day weekend from Thursday, June 2 till Sunday, June 5, I was off to North London to see another elderly who had become a celebrity in his own rights and rose to fame at the age of 100 when he decided to raise funds during the Covid-19 pandemic in 2020. Since then, he has become an iconic figure in the Bengali community and is lovingly called Dabir Chacha.
This year the 102-year old Dabirul Islam Choudhury, his full name, invited people from all around the world to join him for a 'Moment of Silence' to remember victims of the Ukraine war and other countries in a bid to create awareness and raise funds for refugees, vulnerable children, women and families. He launched this initiative in the communal garden of his East London residence in April. The event was attended by members of the Ukrainian community who have been recently displaced from Ukraine due to the war. The initiative also saw people from more than three hundred cities worldwide observe silence for 102 seconds.
Dabirul Choudhury explained his efforts, "I thought the crisis is over and that the pandemic is over. I never thought I would see this day where the people of Ukraine are crying and in desperate need of support. Refugees, mothers and children are suffering. I can't just sit and wait for the war to end. We must do something now." 
But of course, Dabirul Choudhury rose to fame in 2020 for raising hundreds of thousands for Covid-19 victims and the NHS (National Health Service) by walking every day during Ramadan while fasting. He raised £420,000 in 2020 by walking in his communal garden during Ramadan. He was awarded OBE (Order of the British Empire) in the Queen's Birthday Honours for his effort. Speaking to The Daily Star at the time, he said, "I didn't think of getting any honours. I have always helped people in our community and in the current circumstances, I wanted to do my bit."
He continued his global initiative and fundraising efforts in April 2021, where 10,000 people joined his campaign 'Walk with Dabir Chacha'. London Mayor Sadiq Khan, who accompanied Dabirul Choudhury at the time, remarked, "101 year old Dabirul Choudhury OBE has already raised 420K for Covid relief and it's a real honour to accompany him on his latest charity walk. Fasting isn't easy! Yet here Uncle Dabir is observing Ramadan and showing the true spirit of our city."
Dabirul Islam Choudhury walking in the communal garden at his East London residence. Photo: Courtesy
">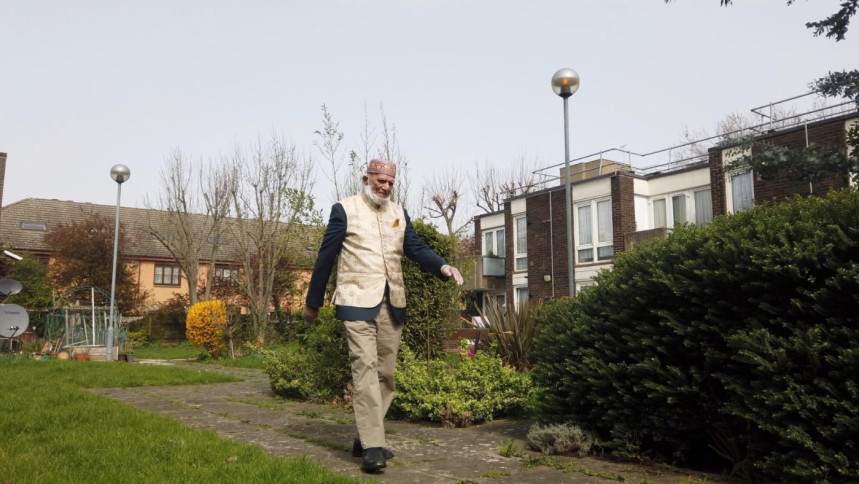 Dabirul Islam Choudhury walking in the communal garden at his East London residence. Photo: Courtesy
This was the first time any Bengali had donated that kind of money to any institution, especially the NHS. The rest of the sum was divided across thirty charities through the Ramadan Family Commitment organised by the UK based Bengali language satellite Channel S. The funds were distributed to victims of Covid-19 in the UK, Bangladesh and across the world among 52 countries.
Atique Choudhury, Dabirul Choudhury's second son, explained his father began walking one hundred laps in his 80-metre garden on April 26 to raise £1,000 but hit the target within six hours. It was when the UK was heading towards a calamity, and people wanted to help. In that spirit of things, seeing Captain Tom Moore raising money for charity in the run-up to his 100th birthday on television inspired him to do the same. Captain Tom Moore, a retired British Army officer, made international headlines in 2020 when he raised money for charity in the run-up to his 100th birthday during the Covid-19 pandemic. Similarly, Dabirul Choudhury wanted to do something while in self-isolation.
Dabirul Islam Choudhury came to England in 1957. He initially lived in Maidavale, then in St Albans, Hertfordshire, Hatfield and finally moved to London. He currently lives in the London Borough of Tower Hamlets, which has the highest Bengali population in the UK. Dabirul Choudhury moved to the UK to study English literature at King's College. While in St Albans, he became a community activist for his fellow countrymen as their understanding of English, reading, and writing was minimal. He assisted people with getting housing, employment in local factories and filling up documents. He also represented them as an interpreter and an advocate to various service providing institutions. In St Albans, he initially worked in a bread factory and worked as a shop steward in the Falkner Sydney Harrier factory.
Dabirul Islam Choudhury at his restaurant in Drummond Street in 1968. Photo: Courtesy
">
Dabirul Islam Choudhury at his restaurant in Drummond Street in 1968. Photo: Courtesy
His son Atique Choudhury, who arranged to meet his father and helped with this interview, remembers their house always being full of people seeking help and advice from his father. Dabirul Choudhury was also involved with the East Pakistani Restaurant Association. He had a restaurant in the early 1960s.
Dabirul Islam Choudhury, born on January 1 in 1920, hails from Kulonj village in Dirai of Sunamganj district in Bangladesh. He has always been adventurous. In 1960, in order to prove his courage man, he drove to Sylhet from England, on his own, in his Austin A40 car. He wanted to prove that action spoke louder than words, he told me proudly at the interview. He spent his childhood in his village and went to Kulonj Primary School. After he had finished schooling, he was recommended to attend the prestigious MC College in Sylhet town. He arrived on a horse when he took admission at MC College. He came from a large landowning family and had several horses. He had twelve brothers and two sisters. He is the youngest of his brothers. His father, Hajji Satir Miah Choudhury, was Motalli, Sarfanji and head teacher of Habiganj School. His mother, Maymona Choudhury, was a homemaker. At six feet and three inches, Dabir Choudhury is very tall for a Bengali, but he comes from a family who were all very tall. One of his elder brothers was seven feet and six inches tall. A relative of Dabirul Choudhury in his village is 105 years old. His mother, Maymona Choudhury, lived for 119 years and his father for 127 years. Even today, at 102, Dabirul Choudhury looks very fit and strong. He said when he was young, he was a coveted footballer. One of his kicks could send the ball from his end of the pitch to the other goal post. He modestly put it down to technique rather than strength.
Dabirul Choudhury has always been interested in education. He has established eighteen schools and two mosques in his area. Dabirul Choudhury is also known as a poet. Over one thousand of his poems have been published. He has published three books. Since childhood, he has a good memory. His father had suggested him to become a Hafiz. He said he got into poems as a child when he heard Sukumar Roy's Paka Paki. He can recite lengthy poems both in Bengali and in English. He recited Tagore's Dui Bigha Jomi and Shakespeare during the interview. He puts his exceptional talent down to being blessed by God.
Dabirul Islam Choudhury with his wife Khaleda Dabir Choudhury. Photo: Collected
Dabirul Islam Choudhury with his wife Khaleda Dabir Choudhury. Photo: Collected