GAMING
Battlegrounds Mobile India surpasses 34 million registered users within a week
We knew that Battlegrounds Mobile India was an anticipated title, and now we know exactly how eagerly PUBG Mobile fans were awaiting the game. Krafton has announced that Battlegrounds Mobile India has surpassed 34 million registered users within a week of its official release. It should be noted that this mark was only achieved via the Google Play Store since the game is not yet available on iOS. As such, the number will only rise even further when the game is made available on the Apple App store. Not only that, but the developers note that Battlegrounds Mobile India achieved a peak of 16 million daily active users and 2.4  million peak concurrent users. 
Wooyol Lim, Head of Battlegrounds Mobile Division, at KRAFTON, Inc., expressed his appreciation saying "We would like to thank our users in India for their support. We are committed to bringing new and more entertaining content to Battlegrounds Mobile India to bring greater joy to our fans and players." and added, "With Battlegrounds Mobile India as a start, KRAFTON hopes to grow and further develop together with India's video gaming and esports industry"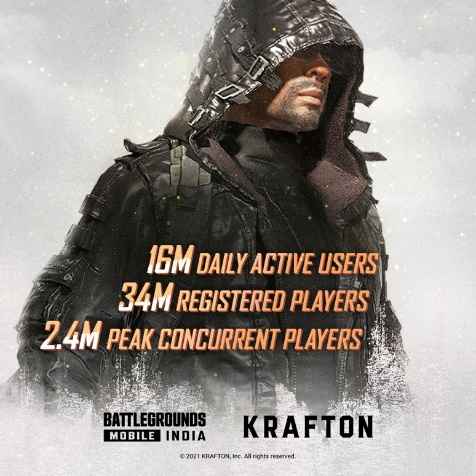 To recall, Krafton officially released Battlegrounds Mobile India on July 2. Before that, the game was available in Early Access. In other words, the game was only accessible to a limited number of people. However, players did devise a way to side-load and play the game. 
Battlegrounds Mobile India has also announced changes to its ranking system and Royal Pass as Season 19 draws to a close. From Season 20 onwards, three consecutive seasons will be grouped as 1 Cycle. The naming scheme has also undergone changes and will now be known as C1S1 (Cycle 1 Season 1), C1S2 (Cycle 1 Season 2), C1S3 (Cycle 1 Season 3), C2S1 (Cycle 2 Season 1), so on and so forth. You can learn more about that here.
Source link